INVAP is a technological company with a respected 38-year-track record in the national and world market. It is the second time that it get financed in the capital market by means of the issuance of Corporate Bonds Class II for an amount of 150,000,000 Argentine pesos.
INVAP develops complex technological systems in the cutting-edge technology fields, such as nuclear technology for peaceful purposes, space technology for scientific uses and communications technology, nuclear medicine, civil and defense radar systems, digital terrestrial television systems, alternative sources of energy, the industry and the protection of the environment.
The organizing company was Grupo SBS through SBS Capital S.A. and the underwriters were SBS Trading S.A. and SBS Trade S.A. together with Nación Bursátil Sociedad de Bolsa SA. (of the Grupo Banco Nación).
The successful placing of bonds took place from December 1 to December 3. During this period of time, 204 offers were received for a total amount of 193 million Argentine pesos, which exceeded all expectations, since the demand was 1.3 times the offered amount. For the market, the Public Auction result was more than reasonable.
The demand was particularly focused on Insurance Companies and Common Investment Funds according to the following information:
The use of funds is categorized into the productive investments in agreement with the regulations of the National Superintendence of Insurance. The issuance amount will be allocated to physical assets in Argentina to carry out civil engineering works to build new offices, invest in laboratories, equipment and services and increase the working capital by purchasing materials, equipment and supplies for portfolio projects.
The issuance took place under the following conditions: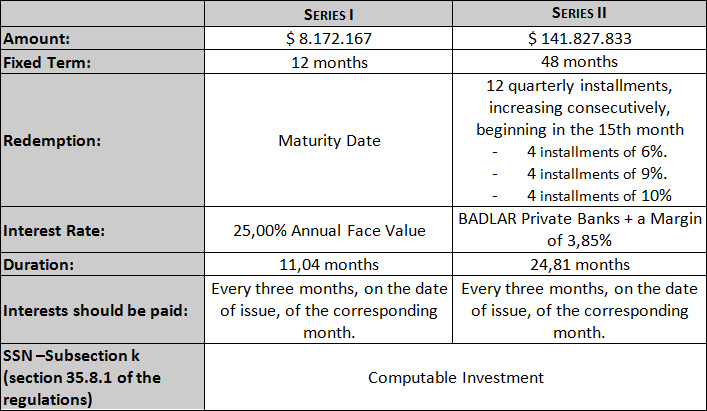 Participants:
issuer: INVAP S.E.
Organizing company: SBS Capital S.A.
Underwriters: SBS Trading S.A., SBS Trade S.A. and Nación Bursátil S.A.
Legal Advisors: Estudio Beccar Varela
Issuers's Auditors: Cánepa, Kopec y Asociados S.R.L.
Credit Rating Agency: FixScr Calificadora de Riesgo
SOURCE: Grupo SBS and Grupo Banco Nación